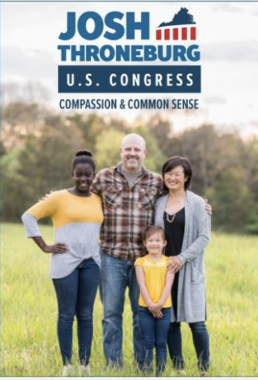 We'd like to extend a million "thank yous" to Josh Throneburg, his campaign staff, his family, and the army of volunteers and donors who supported him. We didn't win last night, but we succeeded in putting out a positive message of Democratic values, compassion, and common sense. Josh deserves our gratitude and respect for going out on a limb and fighting for all the people of VA5; we can all hold our heads high.
We also congratulate Bob Good on his victory, and call on him to represent all voters in the district, including those who didn't vote for him.
We're hoping for good news on the national front. In the meantime, let's rest up and prepare ourselves for the next election!
— Dashad Cooper and John McLaren, Cville Dems co-chairs